OUR SERVICE IN-DETAIL
Feasibility Study
Often our clients are not quite sure what they want, or what they can achieve from their property. You might know what you would like to end up with, but you aren't sure if it can be done or if your budget will cover it.
Furthermore, measured surveys can be expensive and require a commitment on your part, even if you aren't sure about the end result, or whether you really want to undertake the work. Likewise, you might not have exchanged on a property and want to explore some options before you do.
With this in mind, we have developed a low-cost feasibility study that will help answer these fundamental questions.
What is a feasibility study?  
The feasibility study is a design service where we use existing floor plans (either from your sales listing or from other sources) to produce a hand-drawn sketch of what you could achieve. We will try to consider:
Your brief for the project – this is filled out online.
Your budget – We'll apply our extensive experience across a wide range of properties to provide an overview of budget vs. design expectation as well as our suggestions to gain real value for a property like yours.
Planning constraints – A review of whether the project's scope falls within the Permitted Development rules or if a formal planning application will be required. We'll also provide you with other considerations or potential 'trip-ups' which might be relevant to your property, such as historic or environmental constraints.
Technical constraints – An overview of major technical issues such as structure, party walls & drainage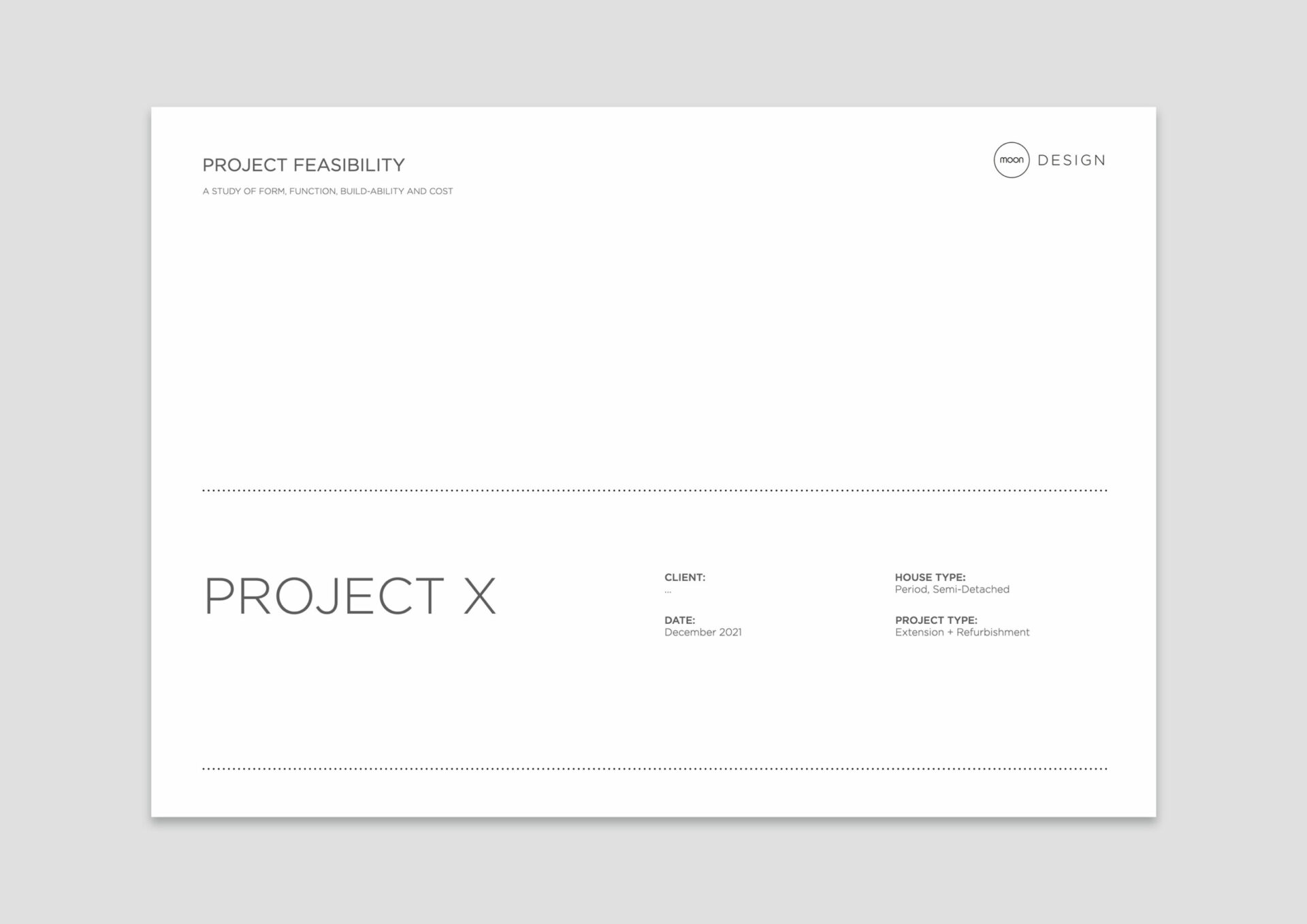 Why is this service a good option?
It enables you to explore your options without a big outlay of fees for a measured survey or full concept designs. This can be useful if…
You aren't sure whether to do work to your existing house or perhaps move
You aren't sure what you can achieve with a budget, e.g. extent of remodel
You aren't sure what is actually practically possible within the physical contstraints of the property.
You would like to experience working with us before committing to a full project proposal.
You have lots of ideas but you need help focussing on which will represent the best value in order to narrow down your Concept design brief
This initial design also speeds up the later design stages and forms a solid addition to the design brief.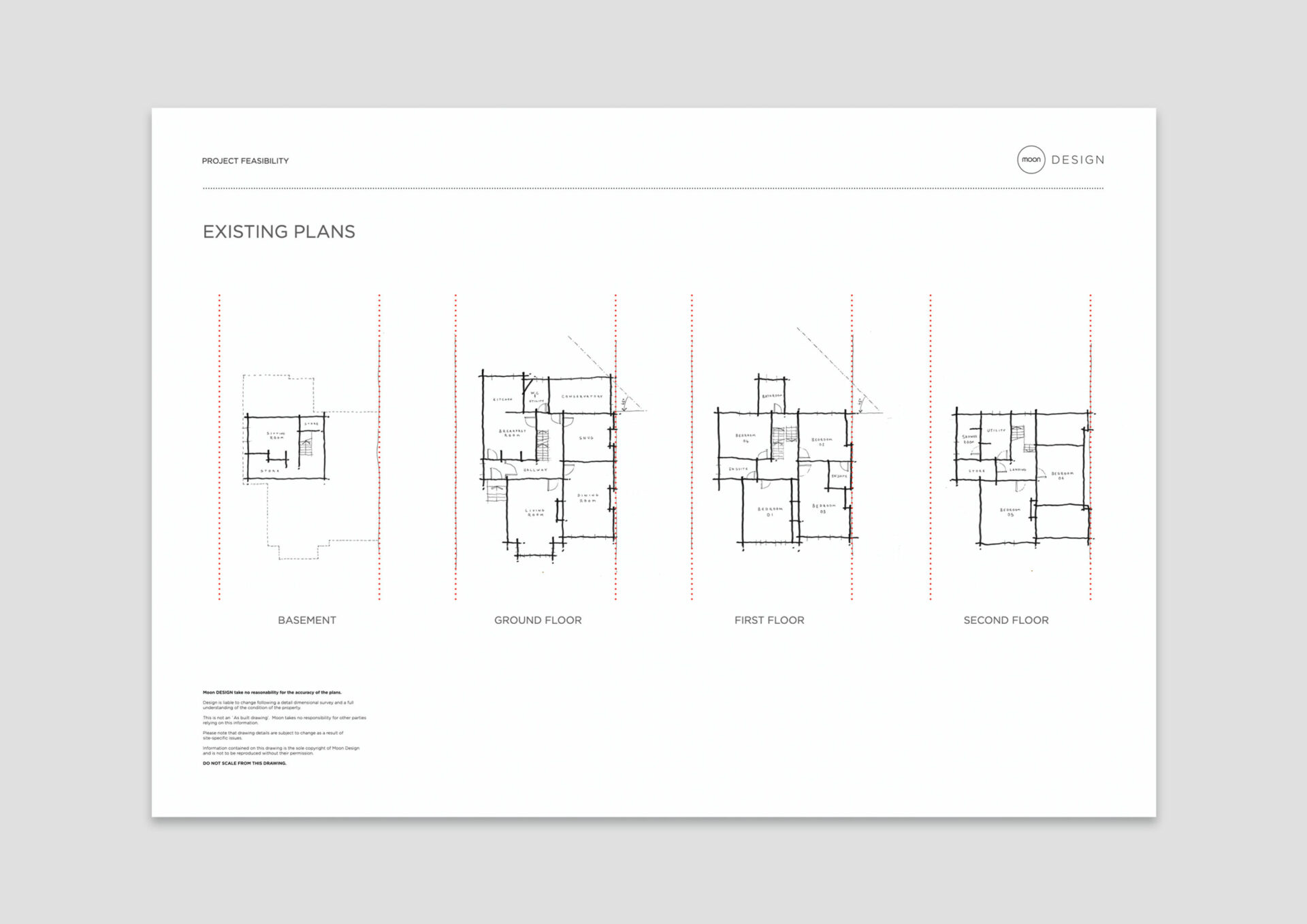 Do we have to have a feasibility study or can we go straight to the concept design stage?
Yes. If you are sure about what you want to do and that it's possible with your budget in mind, we can start the design process with the measured survey & concept design stage.
What existing plans will you use?
We can use a variety of sources to obtain existing plans:
Estate agents plans from recent or previous house sales – often found online.
Past planning applications on the local authority planning portals.
Plans you might have from previous work to the property.
What if you cannot find any existing plans?
There are a couple of other options. If we cannot find any online estate agent plans of your house, we can often use plans from a neighbouring house. This usually works well with terraced houses or houses on streets with multiple houses of the same type. We will ask you to search for floor plans that you feel accurately represent your home and send them to us. Failing that, we will unfortunately be unable to offer this service.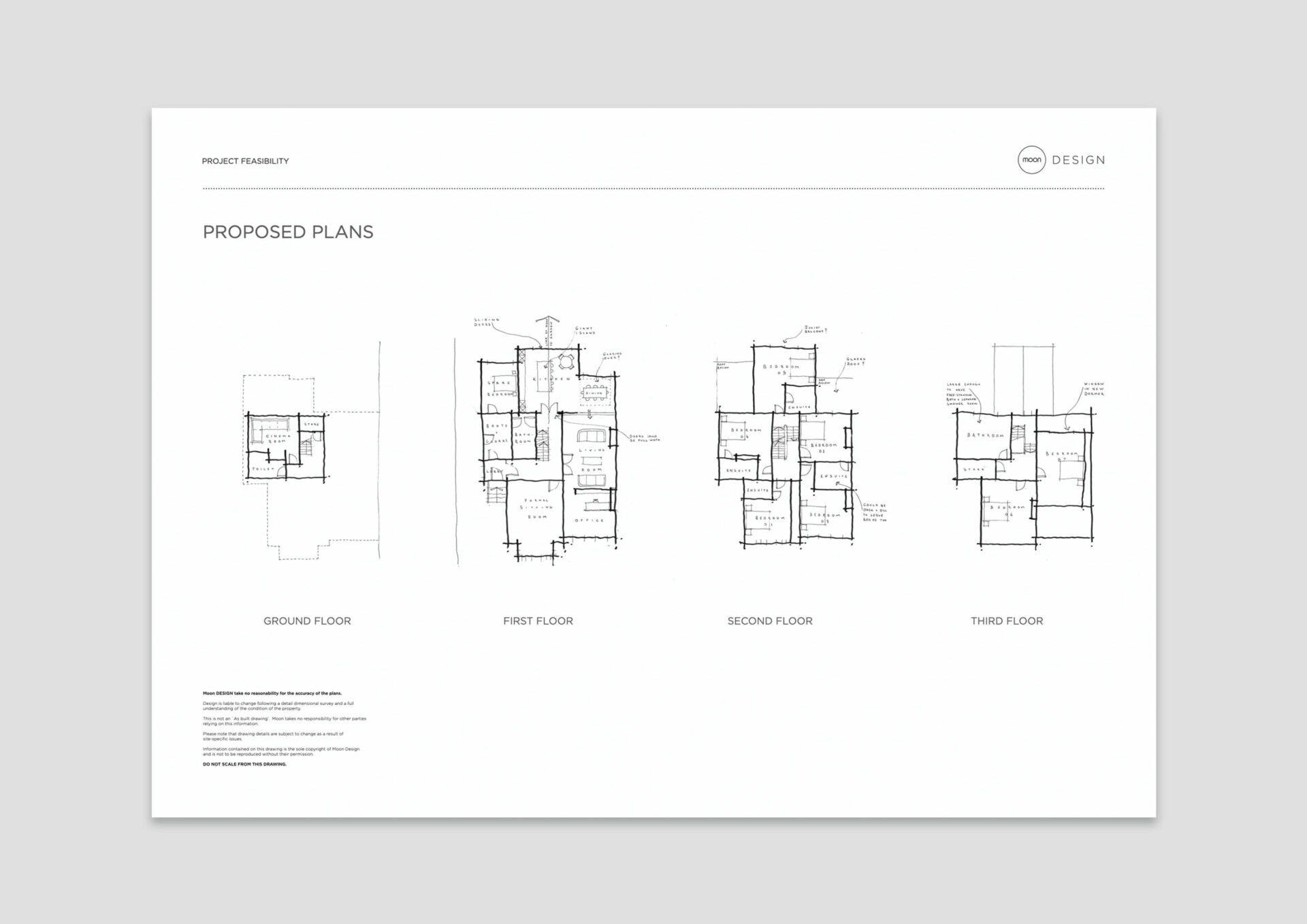 How accurate will my plans be?
Your initial layout will be provided as a hand sketch, taking into account key overall dimensions where possible. These will rely on third party information, but will give you an early indication of what could be achieved. We will attempt to indicate where dimensions are critical to the design solution. We might not be able to tell you specifically how many kitchen units you can fit, or where your oven should go, but we can confidently suggest a sensible layout based on your criteria.
How will you present your design ideas to us?
We will bring a presentation with us to the first site meeting. Preparing ideas prior to this meeting makes our time at your property more productive, as we will have some solid ideas to discuss and look at in the context of your property. In our experience, looking at spaces on site without any plans or design appraisal can lead to solutions being discussed that subsequently are not achievable when put to paper.
It also enables us to discuss potential design solutions and sketch over the plans in the meeting in response to your feedback and expand on our ideas. This provides a solid foundation on which to start developing more detailed concept designs when equipped with accurate survey information.
What is the cost of this service?
The fee for this service varies depending on the scale and complexity of the project but if you choose to continue with Moon DESIGN as your project designer, we will deduct an element of feasibility design fee from the total fees.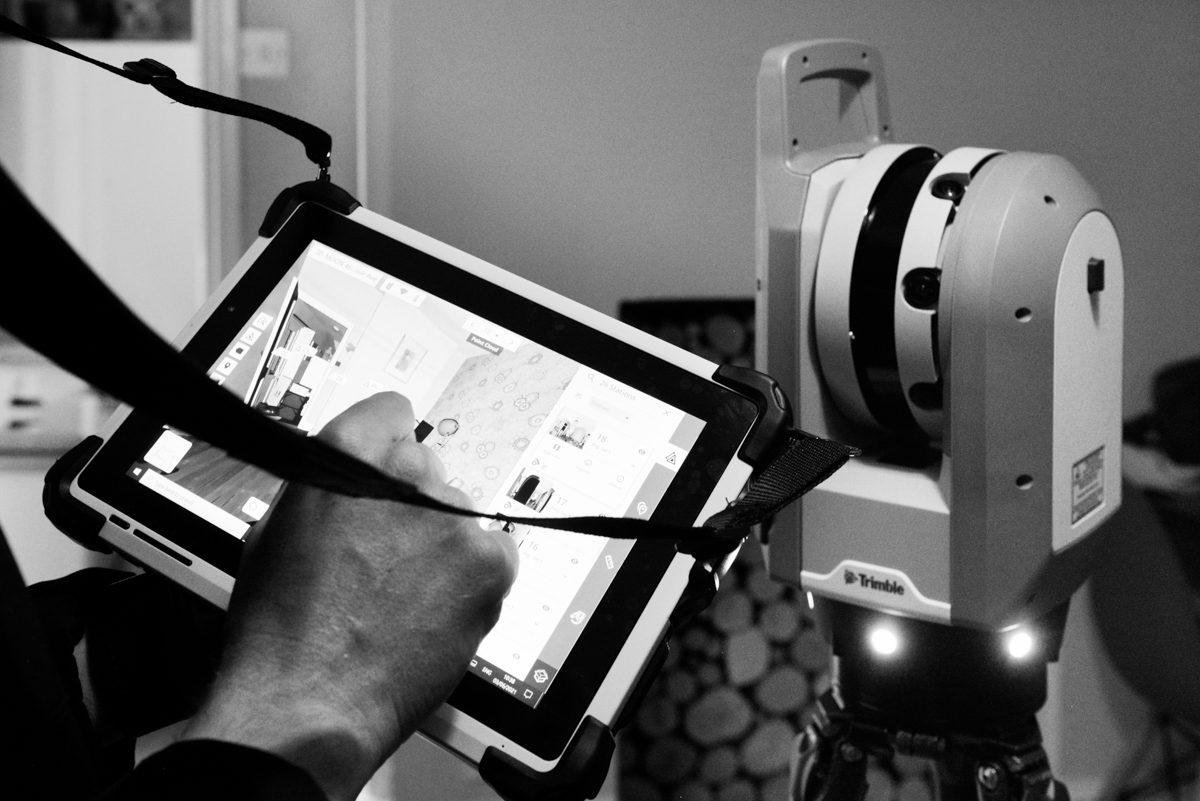 GET STARTED