DESIGN
A Recipe for Living
The kitchen has always been the heart of a home, just as it was the heart of Jonathan and Emma's brief. A space to cook, entertain and come together. Somewhere to chat as flour spills over the counter. 
The delight is in the detail. German made carcasses combined with bespoke white Corian doors and work surfaces by Moon Joinery. The back units are fitted under the ground floor landing. This provides a sense of scale and a more intimate enclosure beneath the new double height space.
Emma and Jonathan wanted the hob on the island to make cooking a more sociable occupation. With no ceiling above, we used a downdraft extractor. A variety of matte whites provide a timeless finish. The splashback is hand painted wallpaper – an injection of colour that can be changed as tastes evolve.
From this core, we worked outwards. Doors integrated into the tall back units lead to the rooms behind. At one end: a pantry, cellar and utility room. At the other: a multi-use family room. A space where the kids do their homework, play computer games and watch films. Not always in that order.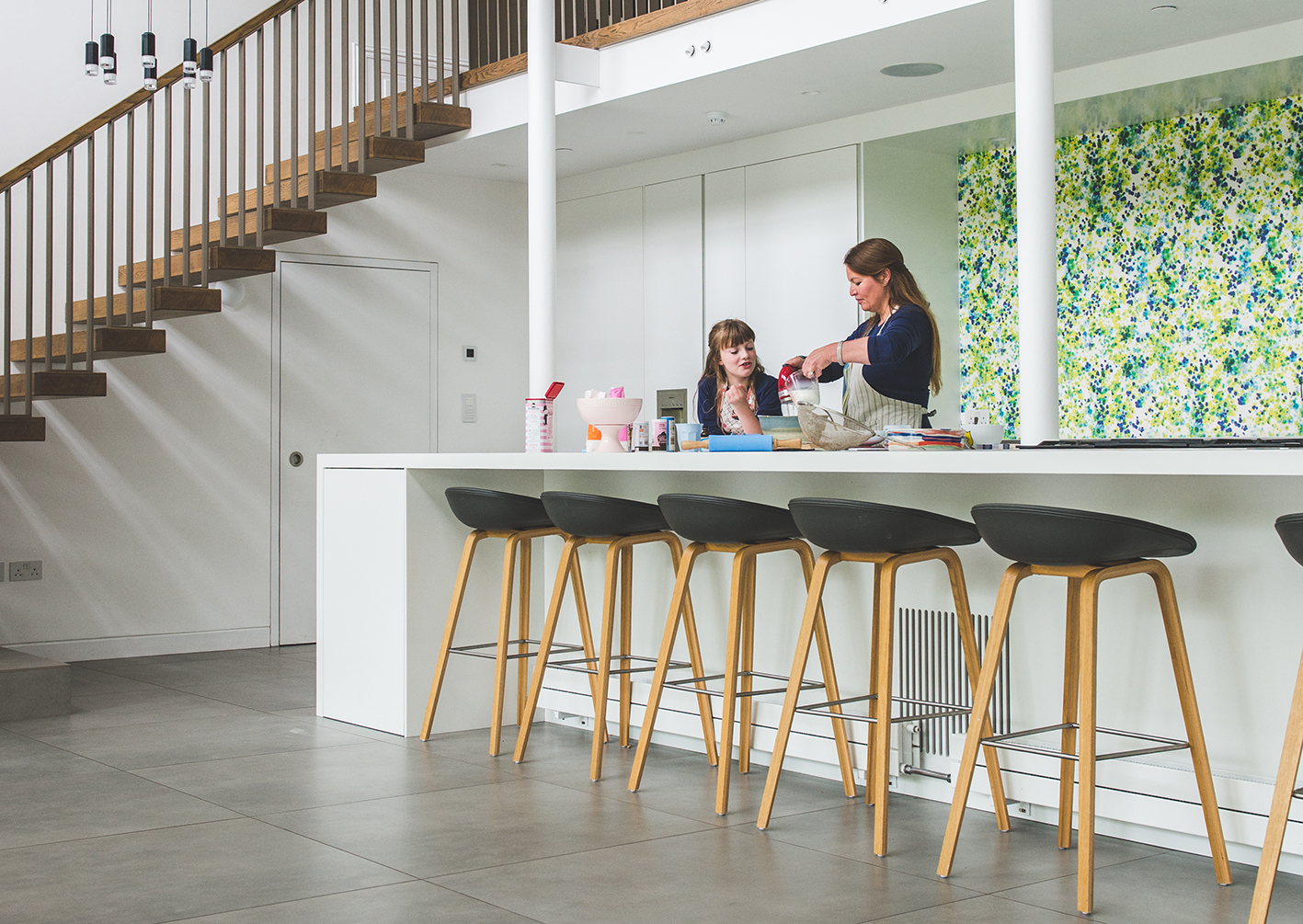 A new cantilevered staircase leads down from the ground floor, replacing the old steep and poky servants' stairs. While a large dining space leads out to the terrace, through a new extension with a large slim-framed glazed sliding wall.
Jonathan and Emma's love of books is put on display thanks to a double height bookcase. Following much discussion as to the correct strategy for organising the collection, a simple alphabetical approach was adopted.
Down one of the corridors is a panelled door from their old house in London, used to record the heights of the children as they grew. A little bit of family history integrated into the new house.
The story continues.