ABOUT
Without Breaking A Few Eggs
The client's brief was to open up the basement rooms to the rest of the house. This meant we needed to remove a large area of the ground floor at the back of the house, along with the two primary 500mm thick rubble stone spine walls to either side of the stairs.
On top of this, a new glazed extension was to be added to the back of the house, improving the link with the garden and forming a new 7 metre wide clear opening in the rear wall.
In short: we needed to make a bit of a (carefully considered) mess.
Time was spent with both the structural engineer and steelwork fabricator to develop a structural design that would allow us to remove the required amount of the existing building, while achieving the desired open space and hiding the new steelwork.
The resulting structural solution, although significant in size, was actually fairly simple. Three letterbox frames concealed within the walls and floors, with two 6.5 metre high circular columns breaking the span of the two principle frames and supporting the edge of the landing.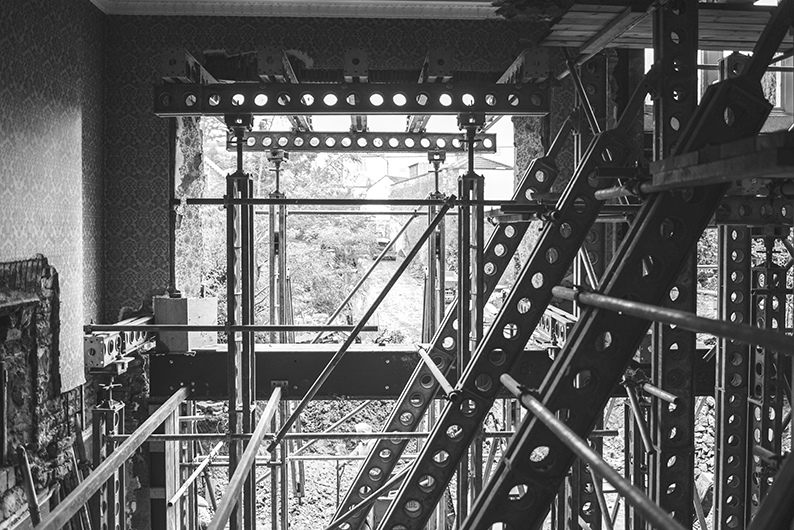 The more complex issue was the temporary propping required to hold the building up during the demolition and steelwork installation. We needed to make sure that once the propping was in place, we could get the steel beams and columns in through the strangely beautiful forest of props. This involved some of the steelwork having to be fabricated and laid in position before the propping was erected.
One of the most unusual aspects of the final solution were the 'flat jacks' above the new opening in the back wall. These are, in effect, whoopy cushions made from steel. They were installed between the top of the steel and the existing wall, inflated with high pressure air and then filled with a non-shrinking grout. This process forces any deflection out of the steel, avoiding any cracking when the props are removed.
There is no doubt that it was a challenging project. But the detailed design and planning meant that the process on site was generally very smooth. And the fact that in the finished house the large steel letterbox frames are entirely hidden, is extremely satisfying.